Aircraft Engine Parts
Aircraft engine parts require high credibility and efficiency so these are made of expensive nickel/cobalt super alloy and titanium alloy. Various protective coatings are applied on the aircraft engine parts to overcome material limit and enhance engine performance. Protective coating technologies in aircraft engine industry have been one of the core technology for advanced aerospace industry.

SKL is applying various kinds of coatings on aircraft engine parts; wear resistant coatings using carbides to improve service life, diffusion coatings for high temperature corrosion resistance of turbine parts, thermal barrier coatings to protect parts from high temperature combustion gas, and aluminum-ceramic inorganic coatings for corrosion resistance of compressor parts. SKL is applying these coatings under the process qualification of aircraft engine OEMs such as General Electric, Pratt & Whitney, Rolls-Royce, and Honeywell.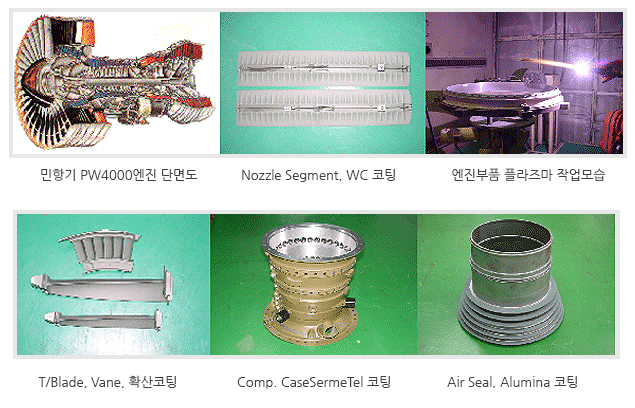 Wear resistant coatings
Coating
Process
Application
Applicable parts
WC
Plasma,HVOF
low temp. wear resistance (<500 °…)
Compressor blade, Nozzle segment, Flap
Cr-C
Plasma,HVOF
high temp. wear resistance(<500 °…)
Nozzle segment, Turbine Vane Shroud, Flap
Tribaloy
(Co-Mo-Cr)
Plasma,HVOF
high temp. corrosion & wear resistance(<500 °…)
Turbine blade
Diffusion coatings
| Coating | Process | Application | Applicable parts |
| --- | --- | --- | --- |
| Aluminide | Pack, Vapor Phase | high temp. hot corrosion(>850 °…) | Thrbine Blade, Vane Combustion Liner |
| Chromide | Vapor Phase | low temp hot corrosion(<850 °…) | Low pressure Turbine Blade Vane |
| Aluminide-Chromide | Pack Cementation | low temp hot corrosion(>850 °…) | Turbine blade, Vane |
| Platinum-Aluminide | Pack Cementation | high temp hot corrosion(longer life) | Turbine blade |
Thermal barrier coating
Coating
Process
Application
Applicable parts
YSZ
(Yttria Stabilized Zirconia)
Plasma
Thermal barrier
Combustion liner, Nozzle Segment After burner can
Aluminum-ceramic inorganic coatings
| Coating | Process | Application | Applicable parts |
| --- | --- | --- | --- |
| SermeTel W | Slurry spray | corrosion resistance(<500 °…) | Compressor Blade, Vane,Case, Disc |
| SermeTel 5380DP | Slurry spray | corrosion resistance & fine surface finish(<500 °…) | Compressor Blade, Vane,Case, Disc |
| SermeTel 725 | Slurry spray | corrosion resistance(<500 °…) | Compressor Blade, Vane,Case, Disc |
Abrasive/abradable coatings
| Coating | Process | Application | Applicable parts |
| --- | --- | --- | --- |
| Nickel Graphite | Powder flame | Air sealing | Compressor Case, Rotor |
| Silver Alloy | Wire flame | Air sealing | Turbine Air Seal |
| Alumina | Plasma | Air sealing | Compressor Air Seal |